Dear FLUKA experts,
I'm simulating the energy deposition of photon spectrum (synchrotron bending magnet source with energy from 5 to 400 KeV) in air volume (1 m³). I'm comparing the FLUKA results with PENELOPE code and analytical estimation.
For the case of the spectrum through air, the three methods shows a good agreement but when I consider the spectrum hitting a 0.2 mm diamond window before air volume, the energy deposited in air was at least 2 order of magnitude lower with FLUKA. The errors in simulations are lower than 1 %.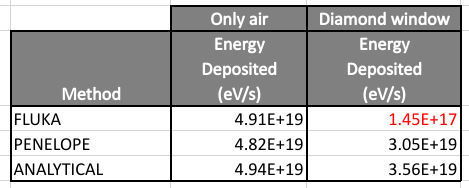 I attached the FLUKA input file Ozonio.flair (21.4 KB) and the spectrum
spectrum.txt (192.9 KB)
Did I make a mistake? Could anyone help me to understand the diference, please?
Best regards,
Isabela.