Dear FLUKA experts
I'm trying to re-produce this plot of 800 MeV protons interacting with a 5 cm radius infinite cylinder of Tungsten spallation experiment. The result should look like this: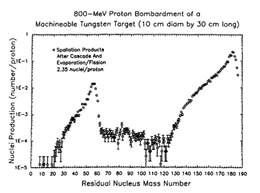 However, the ouput I'm getting is this: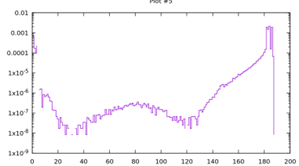 I'm using the 'coalease' card which is activated and 'Evaporat'. Currently I'm using settings for Zmax = 0 and Amax = 0 as this provides the 'WHAT 1' card to be set to '3' - which is 'New Evap with Heavy Frag'.
However the material properties of tungesten is: Zmax = 74 and Amax = 184, when these are inputted the simulation crashes I get this error message below:
***** Z_max in PHYSICS/EVAPORAT not implemented *** *** Z_**
Can you please advise how to get the correct results please? I have also attached the input file here:
target_W_800MeV_p.inp (3.5 KB)