Dear FLUKA experts,
in my simulation I have a neutron beam, which up to now has always been monoenergetic at 25meV. In the settings of my simulation I use a GLOBAL "Analogue" card, DEFAULT PRECISIO and two PHYSICS cards with COALESCE "On" and EVAPORAT "New Evap with heavy frag", and I don't have any problems running the simulation.
Now with the use of source_newgen.f I'm trying to implement this neutron energy distrbution:
spettro_neutroni_fluka.txt (6.5 KB)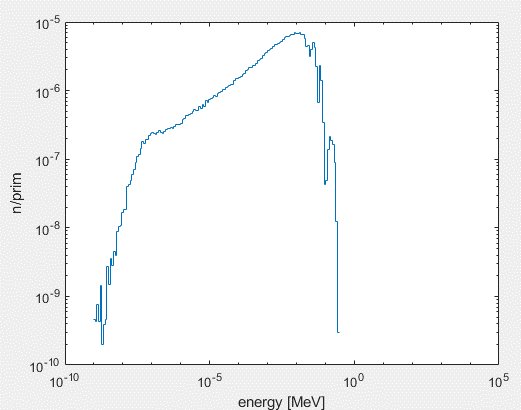 The executable file seems fine but when I run the simulation I get this error:


Instead, if I deactivate the PHYSICS COALESCE card, the simulation runs but it gives questionable results, like these strange scattering-like lines in the neutron fluence scoring with USRBIN: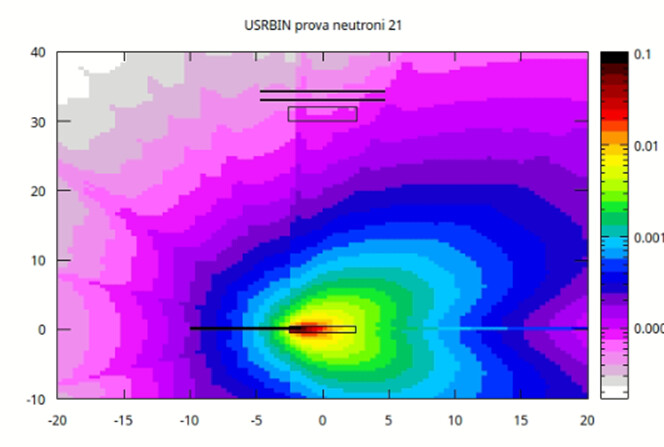 From what I understand, the limit of QME should be 0.1 GeV and since the maximum energy of my beam is around 300keV I can't figure out what's wrong.
I attached the .flair and the source_newgen.f of my simulation below.
Thank you in advance for your help
Giacomo
prova neutroni.flair (8.9 KB)
source_newgen.f (19.0 KB)