Dear FLUKA experts,
I am currrently trying to benchmark results for neutron yields obtained in FLUKA and MCNP. In my simulation, a spherical beryllium target (radius 0.7mm) is centred at the origin and is bombarded by a 10MeV proton source. This interaction between the protons and the target produces neutrons.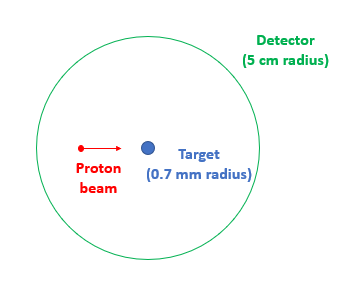 I defined a spherical detector (5 cm radius) which is also centered on the origin (as shown in the above figure). I computed the one-way neutron current across this detector surface and I integrated over all solid-angle by invoking the scoring quantity I1,logE,lin(omega) and assigning one angular bin.
I would like to know if there is anyone with experience in MCNP and knows whether the F2 tally in MCNP is an equivalent quantity to compare against the results obtained from scoring neutrons in the way described above in FLUKA.
Best,
Dalini