Dear FLUKA FORUM users,
I am an undergraduate student majoring in mechanical engineer major. I am studying the ADS spallation process by following this paper "Application of FLUKA and OpenMC in coupled physics calculation of target and subcritical reactor for ADS". After I got the neutron spectrum (I'm not sure, please correct me) and using webplotdigitizer to compare my result with the result from this paper the shape of my neutron spectrum look very different at 1e-4 to 1 MeV as attached in picture below. I don't really understand about physic nuclear, I guess it is because of my density or something about materials that don't match with the input of paper. I would appreciate if someone could tell me what happen with my neutron spectrum shape and how to fix it?
This is neutron spectrum form the papaer.

Web plot digitizer compare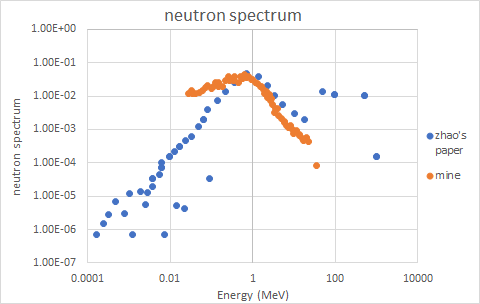 Here is my flair and input that I was created and got the result.
ads_zhao.flair (7.3 KB)
ads_zhao.inp (5.9 KB)
Thanks in advance.