Dear FLUKA experts,
I am having some issue understanding how to tackle the following problem. I am using USRBDX to try to generate a neutron spectrum so I would compare it to the input source spectrum as a sanity check. The figure below shows the input neutron spectrum.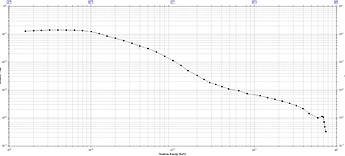 After picking the FLOOD option in BEAMPOS, I set up a USRBDX card with log bins scoring one-way neutron current that going into the target region from vacuum. I was expecting to see a plot with the exactly same shape as the input spectrum. However, I am getting the figure below with DX*Y option, which in my understanding would give me the correct normalization since the flux were given in (Part/GeV/cmq/pr) and the bin width must be cancelled out for log binning.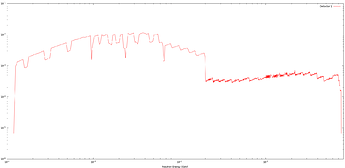 With the default Y option, the figure seemingly agree with each other as follows. Yet, the normalization on the y axis is not very helpful for further analysis.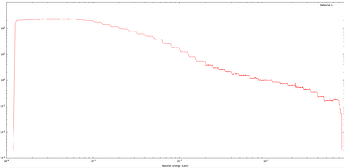 Can someone help me lift my confusion and what I did wrong?
Thanks in advance.
Martin