Hello,
This is a followup question from the previous topic
I am using USRBDX scoring between Region 3 and Region 2 to score the primary particle. Since I a new to FLUKA, I am rying to understand the impact of varying the parameter of GCR-SPE through SPECSOUR card.
The WHAT(5) card is used to specify the spectral index for sampling. So, If I choose it to be zero, I would expect a flat spectrum from USRBDX scoring(below the transition energy i.e- WHAT(6)). But that is not the case.

The spectral shape does not change for the negative values of spectral index. Please see the attached plot for the same.

Next, for a given spectral index, if the transition energy [WHAT(6)] is changed, it has no impact on the spectral shape. Please see the attached plots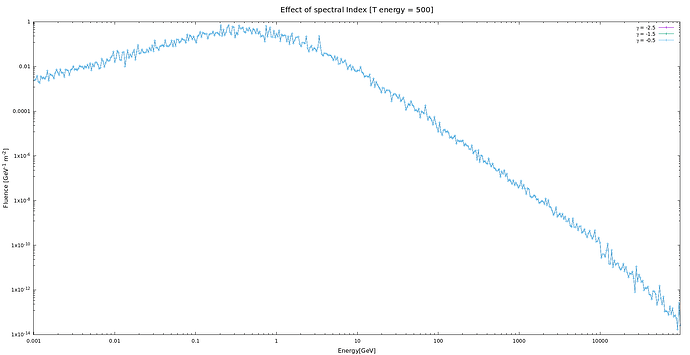 Am I missing something or my choice of parameters for sampling the particle energy is bit vague?
Any help regarding this regard would be much appreciated.
Thanks
Best Wishes
Amrit