Hello Everyone,
I am simulating proton's impacting a tantalum target and I want to determine the cross sections for Tb isotopes. However, feeding from Tb precursors is occurring and this was noticed when looking at the experimentally measured cumulative cross sections.

The plot above is comparing instantaneous production from FLUKA therefore, I decided to add an irradiation time and decay/cooling times to the simulation to try to fit the data as much as possible to the experimental data.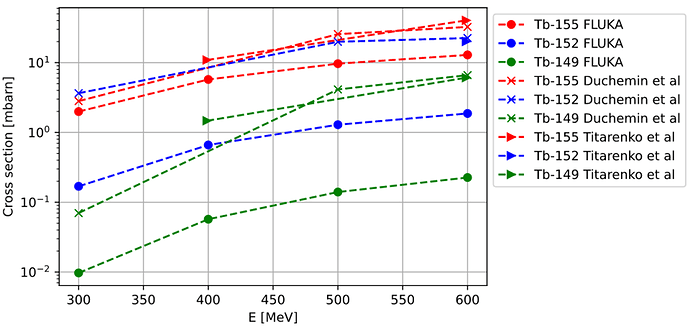 Here the irradiation time is set to 1 week and 1000 seconds cooling time.
Here is also 1 week irradiation time, but cooling is set to 1E5 seconds.
It seems that the production cross sections are decreasing over time but this feeding of the Tb isotopes is not occurring in the FLUKA simulation as compared to the experiment measurements.
Is there something else that I need to add to the FLUKA input besides the raddecay card to see the affect of Tb isotope feeding from its precursors?
Thanks,
Jason