Dear FLUKA experts,
I have one question about the deposited energy comparison scored by USRBDX and USRBIN. This question is based on my previous topic USRBDX detector area and fluence comparison to that by USRBIN.
There is an electron beam incident into the water region. Continuing with that topic, I scored the electron fluence inside the water region by different planes (USRBDX) and different bins (USRBIN). The results by USRBIN is approximately equal to the integral of the result by USRBDX. I thought it is similar for the energy deposition in the water region.
So I scored the energy deposition by USRBIN, where from my understandings I think it is the energy deposited in every gridded bin. However what is the energy scored through a plane by USRBDX? I scored that with two particle families (the beam electrons and the whole electrons). And I tabled several energy results on different locations for comparison, like the following table.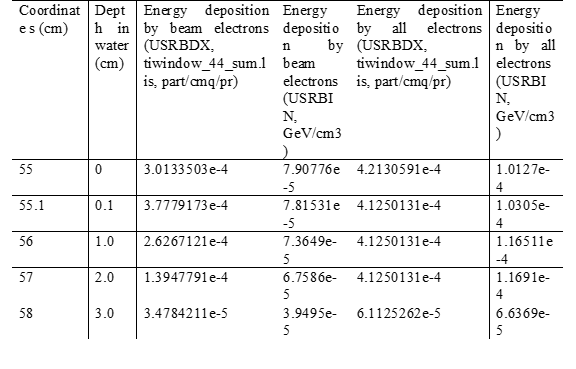 The results by these two detectors are not consistent. For beam electrons, the result with USRBIN is decreasing with the water depth increasing, while the result with USRBDX is not. I guess the scored energy by USRBDX should not be the deposited energy, Do you have any idea? Thanks.
Please find the attached the input files here tiwindow.inp (41.4 KB) tiwindow.flair (56.9 KB)
Best,
Xi