Dear FLUKA and Flair experts,
I am new to FLUKA and Flair. I successfully installed FLUKA and Flair on Windows 10, as well as on Ubuntu. It seemed to me that everything was running properly, but I have found a problem. I was trying to run the "FLUKA tutorial" from the official Flair site (this link). I got to the point 5 (Geometry Plotting) and when I press the "Plot" button I get an error: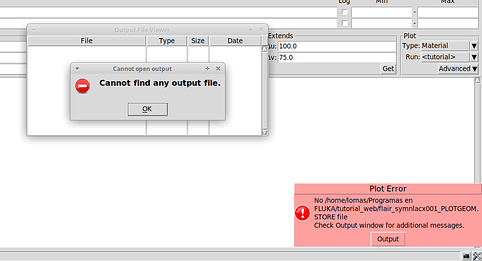 I get the same error on both systems, Windows (WSL) and Ubuntu.I don't know the reason for this. I know it may be a very simple issue, however I don't know how to solve it. If you need more information, I can post the Output window messages.
Thank you very much for your help!