Dear FLUKA experts,
I have questions about implementing magnetic fields for dipoles, quadrupoles, sextupoles, etc. with the new input cards MGNCREAT and MGNFIELD. Basically, I am not sure if I am doing it correctly!
I have a set of magnets, which compose an arc of the ALS storage ring and which are repeated along the arc. I built the arc by create prototypes of the unique magnets and then creating replicas and moving them into place with ROT-DEFI. I have the magnet parameters (image below) and would like to assign fields to all the replica magnets in the arc via MGNCREAT and MGNFIELD. This is where I am stuck.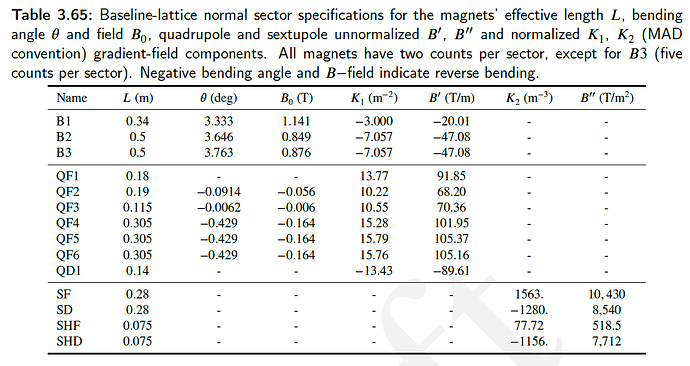 How is this done for a magnet, which has both a bending and a focusing/de-focusing effect? Even more simply, what about just only a focusing/de-focusing effect?
For a dipole, it seems straightforward, but for a quadrupole, I am not sure where to input the Bx, By, and Bz. In addition, I find that the flair interface is unchanged whether a dipole or quadrupole is selected (image below).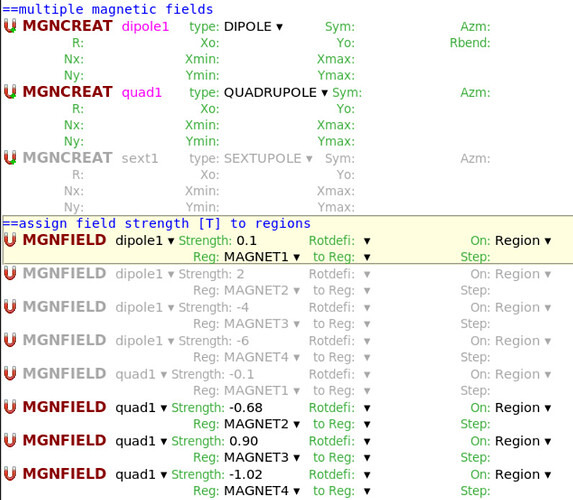 If there are lecture slides from one of your workshops with an example, could you please direct me towards those as well?
Thanks!