Dear FLUKA developer
Good evening!As a FLUKA beginner, there are two questions that have puzzled me for a long time.
The first question is how do I get a complete nuclide map (as shown below)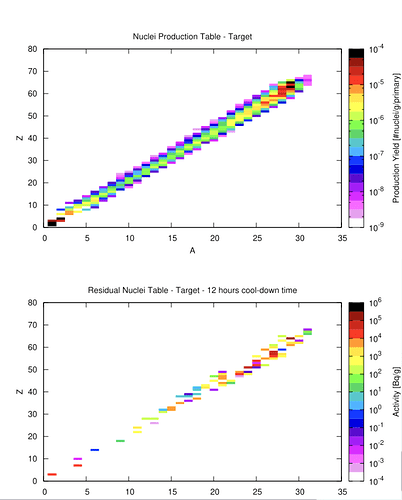 Parameter setting: I use proton beam or electron beam to debomb the copper or tungsten target, irradiation for 10min and cool for 1h to obtain the radionuclide produced by the target, and a nuclide map will be generated. But in practice, my radionuclide map generates only one nuclide. My current idea is as follows: I put the 1h cooling time split a lot, each interval cooling time corresponds to a detector, then I get the data under different cooling time, because I think about combine these data together, and then output a whole, you can get complete radionuclide diagram, but I will not merge the data generated by different detectors or even combined also not necessarily get complete radionuclide diagram.do you know how to merge?
Second question: How do I get a diagram of the activity of a radionuclide over time (as shown below)

Look forward to your early reply and wish you a happy weekend