Dear experts,
I am simulating a pencil proton beam passing through various media before hitting a water phantom. The initial energy of the protons is 18 MeV and I am interested in the energy values along the beam propagation axis, especially right before hitting the phantom.
I have computed energy using the method suggested in this post, as it has provided satisfactory results for LET. The obtained graph is shown below. As observed, Fluka predicts a mean proton energy of 1.6 MeV at the water boundary.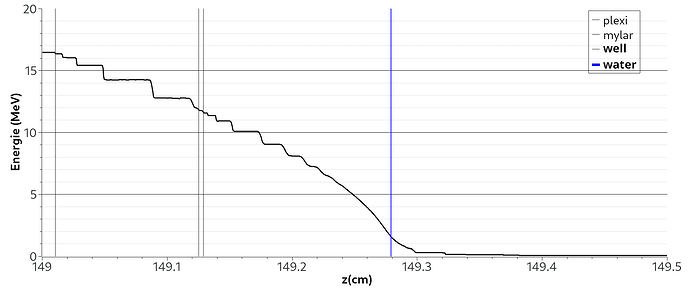 I have also got results from SRIM and LISE++, which are both in agreement but show an energy of around 3.5 MeV at the water boundary. These values clearly do not match the Fluka simulation. The only way I was able to reproduce these results in Fluka, was by removing two 40μm aluminum flanges from the beam path. I have done so by setting their material to vacuum. The graph in this situation is shown below.
Could you help me identify the cause of this discrepancy? Is there something fundamentally flawed with my approach? Or is there any setting that I am missing a card for? (I have looked into modifying the multiple scattering threshold and delta ray production, but have failed to find a solution. Defaults remained set to PRECISIO in all simulations)
I have attached the .flair and .inp files below, as well as the fluscw.f that I use for obtaining energy.
proton_water_18MeV.flair (6.7 KB)
proton_water_18MeV.inp (5.4 KB)
fluscw.f (5.4 KB)
Thank you for your time and I would appreciate any help.