Dear colleagues,
I write you for a clarification concerning the LATTICE card.
I wrote the very simple example attached here (test.inp)
test.inp (709 Bytes)
In this, I define a "basic cell" for the geometry (the region B1, that contains an internal structure), and two "blank" regions for the replica (B2 and B3). Then, I define the lattice and a transformation to transform from the replica volume to the basic cell
LATTICE B2 B3 101 102 transl
ROT-DEFI 100 -40 transl
If I understood correctly, this means that the B2 and B3 are replicated regions and the corresponding lattice numbers will be from 101 to 102. The transformation from the regions to the base cell is a translation along -X of 40 cm. The result from FLAIR is the following: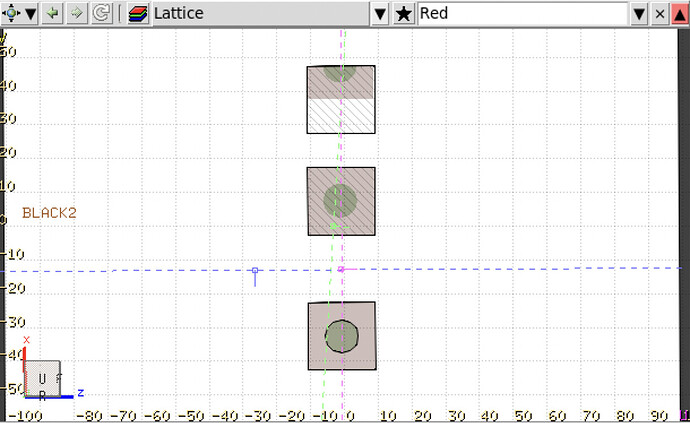 I was quite surprised to see that both container regions are filled with the replica, i.e. I think I have not fully understood the role of SDUM in LATTICE.
If the transformation is from the container region to the basic region, it would be reasonable that each replica has its own transformation. However, if this is the case, what is the role of WHAT(1) and WHAT(2)?
Why can more than two (different) container regions be specified here, if the same transformation is to be used?
Or maybe there is a way to have a "parametric" ROT-DEFI version, so that the first container region is translated to the basic cell, the second container regions is translated to the first container region, …
For this example, I would thus expect this code to be the correct one:
LATTICE B2 B2 101 101 transl1
ROT-DEFI 100 -40 transl1
LATTICE B3 B3 102 102 transl2
ROT-DEFI 100 -80 transl2
Thanks,
Bests,
Andrea