Good day,
Fluka is used to a radiation protecting tool for me, such as shielding design, spectra caculation, dose rate caculation, etc.
Some questions disturb me about the non-analogue mode, whose instruction is too short to understand.
The results of Userbin/Userdbx with DCYCORE is unit by per weight. How could I translate them to dose rate\flunce rate,etc. If the unit result represent per Bq?
When I got a result from the Userbin Dose-eq(Do= 8.6272E-5), is it correct to use this method to get the 1Ci(3.7E10) result ,per hour(3600s):
D(1Ci dose rate)= 8.6272E-5 × 3.7E10 × 1E-12 × 3600=0.0115 Sv/h?
2.As we know ,USERDBX could show you the sprectrum(fluence) betwen the bounry. When E=1.17E-3 Gev the fluence is 9.918E+04/(4pi100100)=0.789 cm-1? Why not 1/ 4pi100100=7.9577E-6 cm-1, as scource is Co60 ?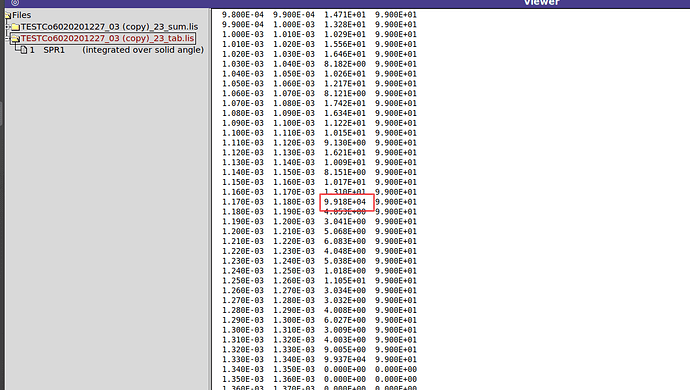 3.Here is an flair used for test my work method,which is used to caculate the sprectum and dose rate, could you find any error for me?
Thank you! Happy new year!
TESTCo6020201227_03 (copy).flair (2.4 KB)