Dear FLUKA experts,
I am interested in the energy of He arising from thermal neutron-10Boron reaction at the border of 10Boron-Carbon layers. The point is to understand the energy spectrum of the He atoms in order to optimize a detector. The general geometry is as follows
The layers are vacuum, 2 microns of 10B, 998 microns of Carbon and finally 1 mm of black hole. The energy of the He particles is measured on the border of the 10Boron/Carbon using USRBDX. The result is as shown.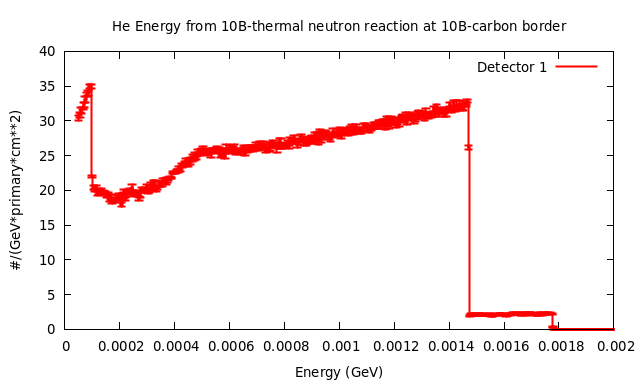 There are 2 discontinuities in the energy spectrum. The higher energy discontinuity is expected and due to the 2 different reaction paths of the neutron-10B reaction. However, I do not understand what is causing the discontinuity at about 100 keV. I have checked previous topics on the neutron-10B reaction on this forum and find nothing similar to this effect. The input file is:
He_E_from_10B.inp (2.8 KB)
All help and insight on the issue would be greatly appreciated.
Jim Kierstead