Dear FLUKA experts,
I'm running a FLUKA simulation to calculate energy deposition in Tissue Equivalent gases using the DETECT Card,
The "-tab.lis" file outputs 4 columns, which I understand to be [LB,UB, C, u(%)] where,
LB = lower energy bin,
UB = upper energy bin,
C = Counts or pulse height spectrum and
u = uncertainty per energy bin
as shown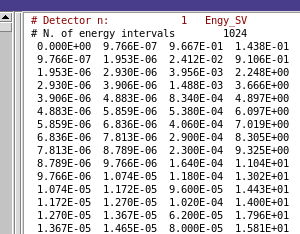 Question 1:
How do I calculate the overall uncertainty of the average energy imparted in the gas? Do the u-values play a role in this?
I understand that "u" is calculated as shown here (chrome-extension://efaidnbmnnnibpcajpcglclefindmkaj/https://indico.cern.ch/event/1123370/contributions/4715934/attachments/2444331/4188477/02_Monte_Carlo_Basics_2022_ULB.pdf)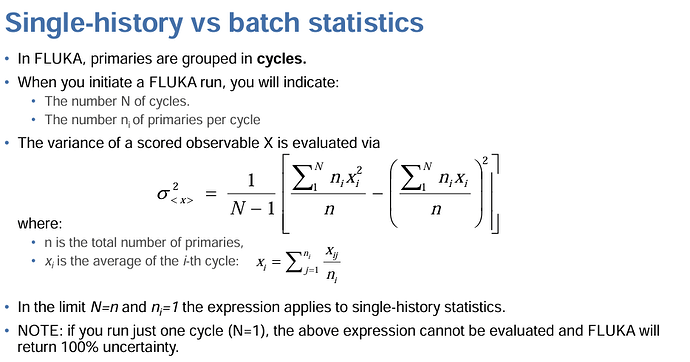 I calculated the average energy imparted and the uncertainty by


Is that correct? This doesn't include the u-values though.
Question 2:
Is there a possibility to define logarithmic energy bins within the detect card?
Please advise.
Zavier Ndum