Dear FLUKA experts,
I encountered issue during using software published in this topic Sampling from energy spectra.
When using a spectrum (2H.txt), which is basically a reference spectrum (cpa2.txt) with increased values in specific bins (quite alot between 1-3 MeV and only a little in 5MeV region), the USRBDX scoring (in this case protons from source entering the target) shows quite unexpected differences between these two source beams, opposite to what I would expect.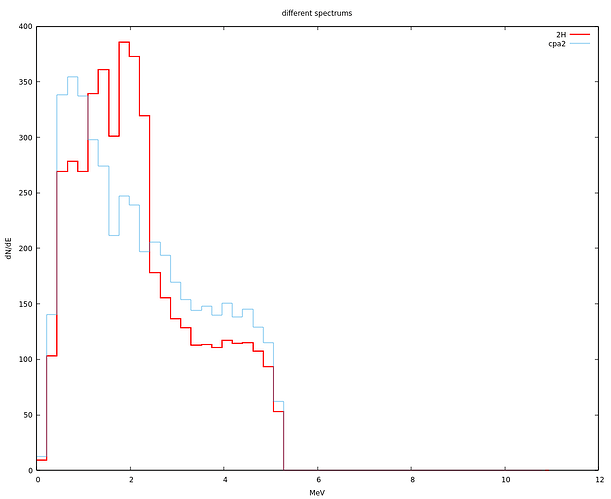 Why the USRBDX response for red spectrum (>3 MeV) is lower than in blue, even though the values for high energies are bigger? Why values for ~2MeV are not 2 times bigger, even though the value in the file is? Is there any way to account properly for that? I've looked into the readme file, but I'm not sure if biasing can help here.
TL;DR version:
I've increased amount of particles by a factor x2 around 2 MeV, but it's not visible during scoring.
Thanks for your help in advance!
Przemek