Dear expert,
I have following quires regarding plotting in FLUKA.
In x, y, z binning plot, if we do not put any value in x, y , z projection limit and if we select z, then the plot will be xy projection plot, right ? Then what are the associated z values for them ?

If we tick log in cb, then are the urbin outputs in log scale ? By turning it on and off, these type of plots are obtained. Can you please explain what's the reason behind this? When cb is not set in log scale, the color profile is vanishing after a certain distance.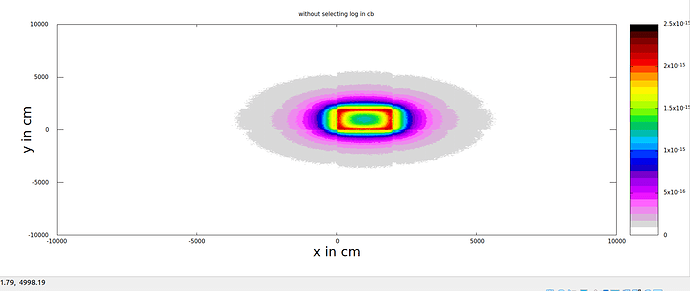 In the above plotting, the range of x axis and y axis are same, but the scaling is not same in both the axis, leading to an oval shape ( I feel it will be circular if the scaling is same in both the axis). Can you please guide how to set that ?

After plotting, by moving the cursor, we can see the coordinates of x and y axis at that location, but can we see from the plot what the value of the usrbin at that location is ?

Can we resize the plot, for example the x and y are in cm, but if we want to plot the graph in m unit without disturbing the usrbin output value, can we do that here ?
Sorry for these long quires. It will be very helpful if you can guide me.
Regards,
Riya