Dear Fluka experts,
I am trying to simulate the absorbed energy fraction versus depth.
It is a silicon mirror coated with 50nm B4C. X-ray source with photon energy [1keV-12keV]. In order to see if I did it right, I am comparing my results with the paper that did the simulations using Gean4. (https://www.researching.cn/ArticlePdf/m00005/2023/21/2/023401.pdf)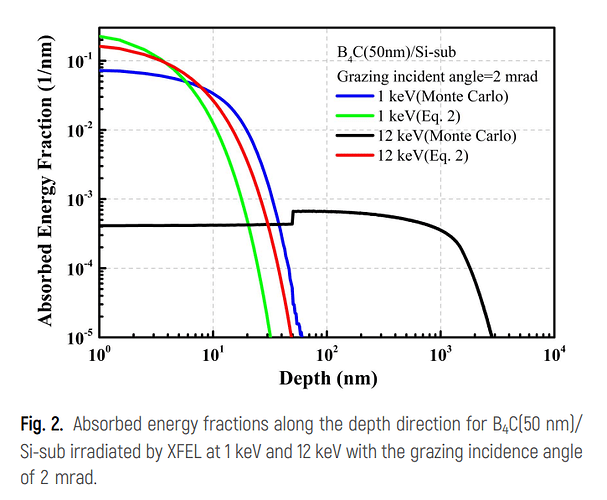 Result from my simulations with Fluka:

When materials are irradiated by ultrashort femtosecond x-ray pulses, the process of electron excitation and relaxation will be involved (like photoelectron, Auger decay, ionization). How can I make sure that all these parameters are taken into account in the simulations? So are there important secondary interactions that are not accounted for by the BEAMPART card?

I use USRBIN (part: Beampart) 1D. Is the unit 1/(primary*cm)?

What do the BIN numbers in scoping cards mean? Is it better to define large numbers? Like (51 BIN)?

If we consider this definition for refractive index: n=1-delta-i*beta.
My understanding is that in the OPT-PROP card (type: blank), refraction is "1-delta" and absorption is "absorption coefficient". What about beta?
Absorbed Energy.flair (4.0 KB)
Absorbed Energy.inp (2.9 KB)
I really appreciate your kind help.
Best regards,
Marziyeh