Dear expert:
With your help, I have successfully calculated the types and activities of radionuclides produced by induced radioactivity, which are in good agreement with the literature.However, I encountered some problems when calculating the ambient dose equivalent H*(10) produced by radionuclides. I hope to get help.
1)In the literature, usrtrack is used to obtain the fluence, and then auxscore is used to convert and multiply the dose equivalent. Can I directly use the Dose-EQ option in usrbing card to calculate the dose equivalent?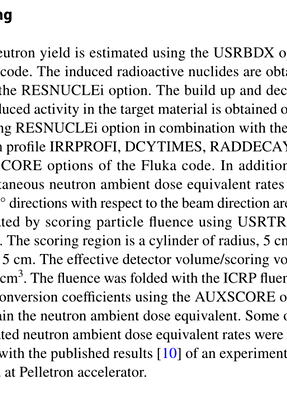 I want to get the dose rate,but the output file as shown below,according to PPT, I found that the unit of DE-EQ in usrbin card is pSv,when I set cooling time is 3600s,the unit of rate is pSv/s or pSv/h ?


I see the output file of usrtrack with auxscore ,unit is (p/cmq/pr),is this a normalized value?Should I multiply by the total number of particles 3600000 gived by output file ?How did 3600000 come from?Can I use the EWT74 parameter?
Looking forward to your reply, thank you.