Dear experts:
I have a problem when I try to get mean excitation energy of materials. For materials in ICRU145, I got a bigger I value than formula calculated or Geant4 results.
For example , the brain material. The material definition is:


and I use DELTARAY card to obtain stopping power and material related information.

I found a smaller stopping power than geant4 simulated and then I examed the material mean excitation energy. The value is 100.97 eV in Fluka and 68.74 in Geant4. Also , I used the formula to calculate it and get a value of 68.7415, which is consistent with Geant4 but differs significantly from the Fluka result.


The fomula I used is: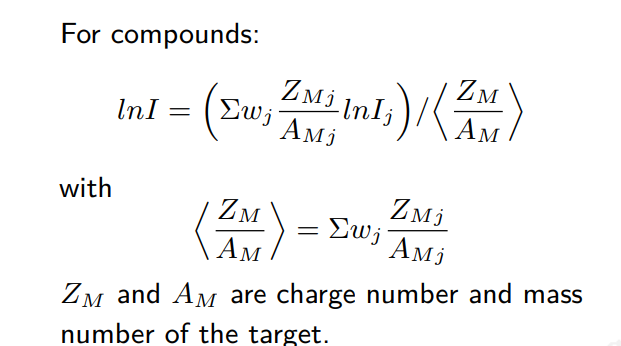 I have simulated the elements related and got the same mean excitation energy as NIST data; I also simulated liquid water and muscle ,skeletal and got the same results compared to NIST.
So it seems like when I simulate the materials predefined, I get the reasonalbe results. But for materials user-defined, it has trouble. I use DEFAULTS=HADROTHE and proton beam energy is 230 MeV.
I also noticed that there are two warnning for this material in output file. Do they have relationship?