Dear FLUKA experts,
I try to use mgdraw.f for creating neutron sources as I did here. The source file came out, but when I plot the neutron distribution from this source file in MATLAB. The result shows like this

The distribution looks weird. It's not distributed all over the geometry from this input.
ads_fuelrod-mgdraw.inp (39.6 KB)
mgdraw_example.f (4.2 KB)
On the other hand, when I use fluscw.f the neutron distribution looks like this. it seems the distribution is correct.
fluscw_forads.f (4.7 KB)
ads_complex-fuelrod.inp (39.4 KB)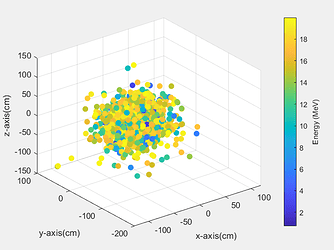 I do not understand what causes the neutron source from mgdraw.f distributed like that and the energy range between these sources is significantly different.
Thank you in advance,
Thanapong