Dear FLUKA experts,
During my attempt to get the absorbed dose map of a Co-60 source pencil in the air, I got strange DOSE scoring results.
I used BIASING cards to improve statistics by dividing the air into layer regions and assigning the imp-E values in multiples of 2, and there was a strange pattern in the USRBIN-DOSE score as shown below:

There were sawtooth-like distributions at the intersection of the air layer regions.
Then I turned the area into layers of nested cylinders it showed again. It seems that the sawtooth-like distributions are always shown at the edge of the regions. Curiously these strange patterns appear only in the scores for DOSE, which are satisfactory for PHOTON.
Here are the maps of DOSE and PHOTON: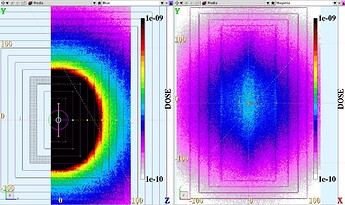 And the input files are here:
v8-std-new-biasing.flair (21.9 KB)
v8-std-new-biasing.inp (5.5 KB)
I suspect the reason for this is the problem of regions division, which leads to less accurate calculations on the boundary, yet there is nothing strange about the statistical results for photons.
It is very confusing and I would like to hear your suggestions.
Best regards,
Shan