Dear experts,
I am simulating a beam of 18MeV protons propagating through various media (vacuum, air, metallic thin films, etc) before eventually hitting a water volume. I would like to score the proton energy, Linear Energy Transfer (LET) and dose along the beam propagation axis (Z).
Out of these, scoring the LET is where I have been able to make the most significant progress. I used the USRBIN (Energy) card on a cylindrical grid and then multiplied the results by the transverse scoring area. I understand that this is technically the stopping power, rather than the linear energy transfer, but I believe they can be treated as equal in this context, one of the reasons being this forum answer. The plots I was able to make look like the one below (note that I have introduced a layer of vacuum before the water, in order to be able to identify the water and analyze the plot more easily).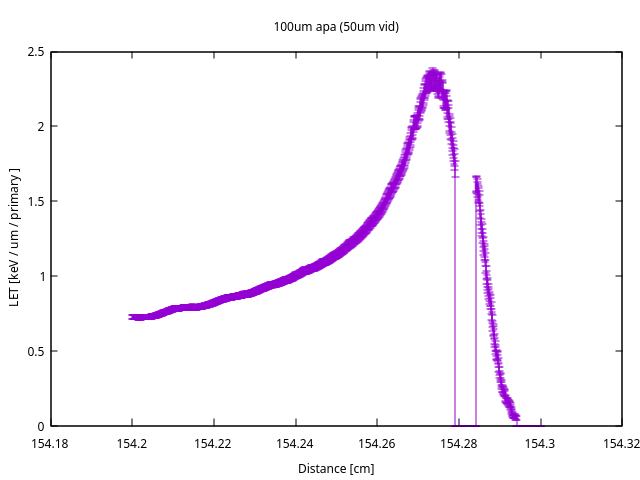 The results seem to have the correct shape (they clearly describe a Bragg peak), but the values are about one order of magnitude smaller than expected (based on known proton LET in water).
This has been done in accordance with this official CERN course. Have I missed any steps or is my analysis perhaps incorrect?
I have also tried scoring the LET with the USRYIELD card, specifically in relation to particle charge (as we know the only particles are protons with charge 1), but I have not been able to interpret the differential results it produced.
What could be the problem in my approach for scoring LET? Do you know how I could proceed in order to be able to graph proton energy and dose along the propagation axis?
Thank you for your time and I appreciate any feedback!
I have also included the .flair and .inp files below
proton_water_18MeV.flair (7.6 KB)
proton_water_18MeV.inp (5.5 KB)